IMOCCI: the social app that drives on your location and your emoji mood
Discover the sweet and simple way to express your feelings, thoughts and experiences in relation to your current location. Stop fiddling for words and send an IMOCCI still today. Let your IMOCCI friends know what's going on with you. If you're feeling extra creative, say your message with the cool IMOCCI emojis. An IMOCCI says more than 1,000 words.
In a nutshell: What is IMOCCI?
You are out and about and everything is in full swing. All of a sudden you feel you want to share effortlessly what's brewing right now. Simply do this: Open IMOCCI, your new social app. Pin your location. Choose one or more emojis to express your thoughts on the spot and share your experience with the contacts from your IMOCCI app. In the social network service IMOCCI, the moment is king and the emoji becomes the currency for communication. Fun and playful to use, everyone from the age of 4 to 99 can talk to each other and stay connected via IMOCCI.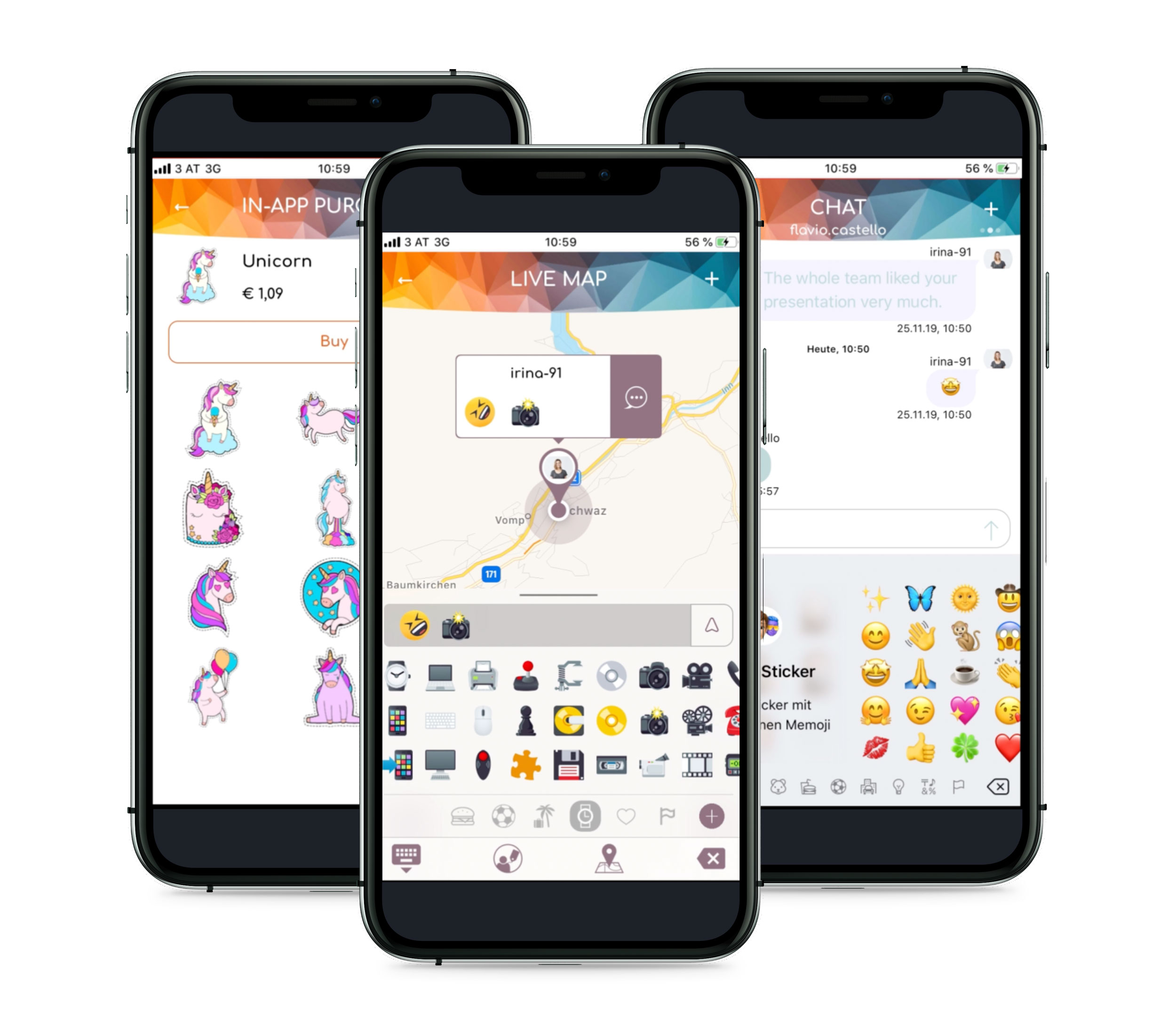 What has IMOCCI got that others don't – what makes IMOCCI special?
Always stay up-to-date and connected with the places and people you care about. Instantly share the gist of the moment and waste no time. Let your spirit show through cool emojis – say it graphically, say it clearly and well. If that's what you like, then go feature your day on the IMOCCI App – while keeping an eye on your advantages with IMOCCI:
The world of IMOCCI for dummies: What can you do with IMOCCI?
For sure, every new application needs a little getting used to, during which you'll learn whether you want to keep this particular app or not. While spending time with a new app, you'll soon come to an understanding if its design and features are likeable at all. IMOCCI is smooth and easy and so refreshingly different, you're going to love it.
Map
To send an IMOCCI, pin yourself on the map and look out for IMOCCIs that your friends left for you, there.
YOUR IMOCCI FEED
Find a useful record in chronological order of all your IMOCCI messages in your timeline called <<IMOCCIS>>
Chats
If you are looking for a more private communication, you'll find the IMOCCI chat function rather useful.
Imocci Store
In the in-app shop you can purchase and expand your personal collection of the crafted emojis by IMOCCI online.
Profile
Show your true colors, show your true self. Style your IMOCCI profile after your heart, as you truly like it.
Contact list
In order to find a comprehensive list of all your IMOCCI contacts and to search for referrals, go to <<contacts>>.
Like or dislike: what others say about the IMOCCI experience
Our top sellers: Style your IMOCCI with the special occasion emojis from IMOCCI
The effect of an emoji lives on its imaginative and detailed presentation, its size and its mojo. At IMOCCI, we are constantly developing new emojis that simply stand out and shine in all three categories. The specially-crafted IMOCCI emojis can be found in the IMOCCI in-app shop, for the exclusive use on IMOCCI only. There you can choose from a range of certain themes, e.g. love, and events, e.g. Halloween, or trends, e.g. Fridays for future. If you use the IMOCCI emojis actively, you'll pimp your IMOCCIs to the max and'll score with your individual style. Have you tried them yet?
IMOCCI PLAYTIME: What do I have to do to get the sought-after IMOCCI bonus?
Among the IMOCCI team, there are two things we find sensational! First: there is a lot going on and IMOCCIs are running wild all over the world. Second: we have a close, longstanding friendship with you and through IMOCCI we'll stay connected with each other for long. Since you are a vital part of the development of IMOCCI, we would like to give something back to our IMOCCI users. Find out what you can do to profit from the IMOCCI bonus programme.

Super user
The moment when you are responsible for the fact that because of your humongous IMOCCI rate our server cores are running hot and reach their limits, is the moment you'll turn SUPER-USER of the month – this honorary degree wins you a free IMOCCI emoji. Not bad, eh?

Favourite user
In the course of a month you've closed more than 50 new contacts in the IMOCCI app and, in addition, you've been active more than 30 minutes a day? Real world class. Congratulations to the top performance! Collect an emoji set of your choice for free. You're worthy of the accolade.
Master user
1.5 years into IMOCCI and you are still an active member? We love you for your loyalty and are impressed by your avid interest in IMOCCI. Thank you for being there all year round. We reward your efforts with the coveted emoji set with customisable features. For real winners like you only!
Always up-to-date: Download or update the IMOCCI app
Now, have you become curious about IMOCCI and want to test the application on your device right away? Or, maybe you missed any of the more recent updates? Not a problem. To get the latest version of the social app IMOCCI for free, use the buttons below to navigate to your app store. Let's go!
IMOCCI friends forever: Stay in touch with IMOCCI at any time – share your questions and concerns with us
Behind IMOCCI there are real people who are constantly working on the development of the app. They do their job well and provide a smooth IMOCCI experience on a day-to-day basis. If you would like to leave us a note, or if you wish for our assistance and support, we look forward to hearing from you. You can reach us via info@imocci.com. Stay in touch with us in real-time through our social media profiles, become a part of the IMOCCI-land.